The Uccello Kettle holds 1.5 litres of water. That is approximately 6 cups of tea.
As the Uccello Kettle is designed for those with limited strength and mobility, a higher volume of water will increase the weight of the kettle, and this defeats the purpose of the Uccello Kettle.
We wanted to get our Uccello Kettle as close as possible to the functionality of a regular kettle without impacting its usability for our customers.
It is vital that you always fill the Uccello Kettle above the minimum (0.7 Litres/24fl.oz/3 cups) and below the maximum of (1.5 Litres/ 50fl.oz/6 cups) as indicated on the front of the kettles water level indicator.
When filling the Uccello Kettle, there are two options available:
Filling the Uccello Kettle from the tap:
You can remove the kettle vessel from the base and fill directly from the tap.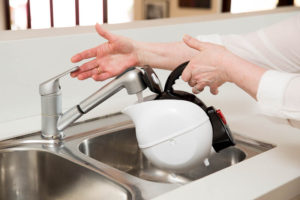 Filling with a jug/cup:
You can fill the Uccello Kettle with the desired amount of water using a cup or a small jug. This way you do not have to lift, hold, or carry the full weight of the kettle.